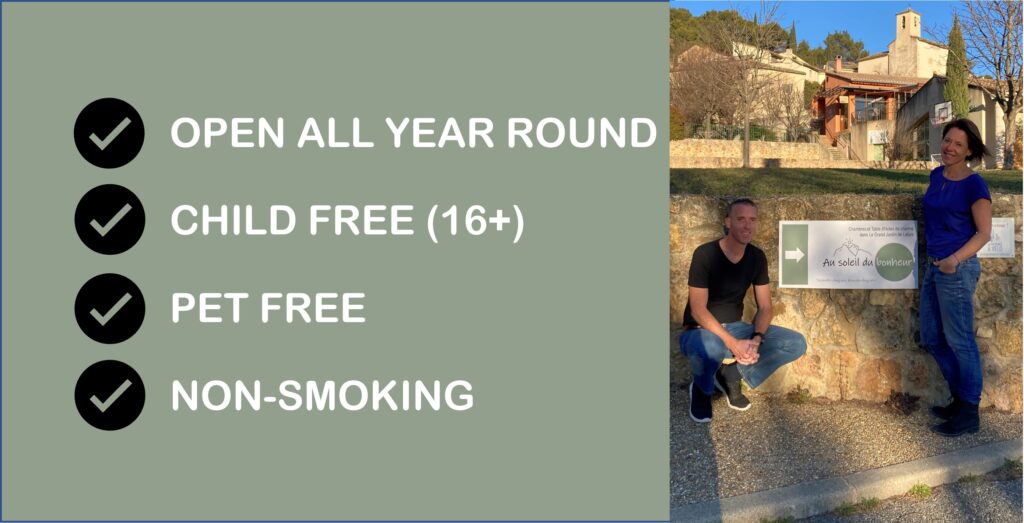 Au Soleil du Bonheur
In the middle of the Provence, 30 km north-east of Avignon and just 12 km from the foot of Mont Ventoux, you'll find the impressive limestone cliffs 'Dentelles de Montmirail'. In the middle of its amazing valley with its hilly landscape and AOC vineyards, our charming Bed & Breakfast is situated on the edge of the picturesque village Lafare, where it seems time stood still.
Au Soleil du Bonheur has five spacious guestrooms in its Provencal garden with a beautiful view on the protected vineyard of Lafare and the limestone cliffs of the Dentelles de Montmirail. In all seasons its is a unique location for adults looking for an active or sportive holiday combined with tranquillity, comfort and relaxation in an authentique Provencal ambiance. A place for the active guest who loves the overwelming nature and who also wants to enjoy the layback lifestyle of the Provence.
In June 2021, we, Maarten and Patricia, opened Au Soleil du Bonheur. More then three years ago we made the decision to change our lives and to start the search for our dream home to welcome guests and to turn our hobby into our profession. After more then twenty years of working in bussiness and education, we are looking forward to go back to where both our careers started, the hospitality industry.
Au Soleil du Bonheur will be a place where you will find the professionality of a little and charming hotel and also the personal attention and hospitality of a cozy Bed & Breakfast. It is important to us that you as our guest will be at home and that you will be able to enjoy your stay at your own pace: 'Se sentir chez soi, loin de chez soi.' (litterally translated: feeling at home, far away from home). We will see to it that you have everything you need.
You will be able to fully enjoy the beautiful AOC wines from Beaume-de-Venise, Gigondas, Vaccqueyras and definitely also the wines of the AOC Ventoux. The combination of typical Provencal products like truffle, lavender, olive oil and mediterranean herbs makes this area a true hotspot for the food and wine lovers.
The Vaucluse is a real paradise for cyclists, mountainbikers, runners, trailrunners and hikers. The Dentelles de Montmirail, the Mont Ventoux and the Toulourenc Valley will surprise you and you will enjoy amazing natural environment amidst breathtaking nature and panoramic views
We are happy and proud to welcome you into our home and to share this beautiful place with you!
We hope to welcome you soon!
Sunny greetings, Maarten & Patricia