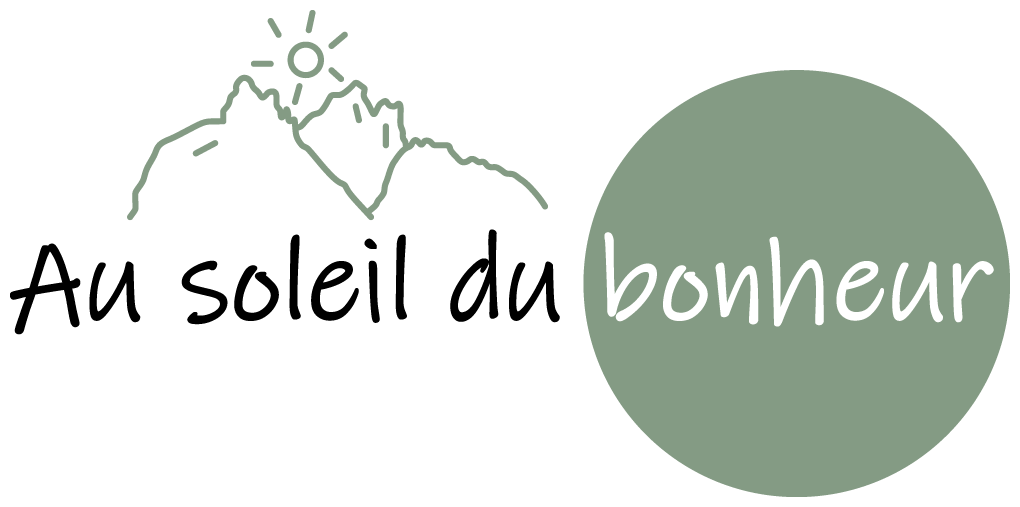 It was immediately clear to us that a name for our bed & breakfast needed to fit the dream home aswell us.
Au Soleil de Bonheur means literally 'under the sun of happiness'.
Au soleil represents the sunny and positive side of life. We both live with 'a glass-half-full' attitude. We enjoy the nature intensly aswell the little things in life. We positively handle setbacks, we dare to abandon certainty to make dreames come true and choose for each other and that what makes us happy. One off the reasons we have chosen this area with its overwhelming nature and view in all seasons. The climate around the Mont Ventoux, thus also the Dentelles de Montmirail, is well known for its intense blue sky and lots and lots of sun. This makes us both joyull and happy.
For us the word happiness is central. Therefore we have placed bonheur in a circle in our logo. Happiness is an emotion and means 'being statisfied with the current living conditions' or 'being happy'. And that we are. We feel at home in the Dentelles de Montmirail, it gives us every day the amazing feeling of happinesss that we are able to live here. Everyone who is happy has a joyfull, satisfied and delighted feeling. And that is wat we feel, every day again.
That is what 'under the sun of happiness' means to us, the name for our dream home: au soleil du bonheur.
We are happy that we will be able to share that happy feeling ass wel as this beautiful place with you!
Subtitle: 'dans Le Grand Jardin de Lafare

'
Le Grand Jardin is the original name of the land where our garden and house is part of. Twenty years ago the house has been build and used as a hotel-restaurant named 'Le Grand Jardin'. Ten years ago it has changed owner and was continued as a bed & breakfast with the same name. We have decided to start under a new name. But the original name of the location 'Le Grand Jardin' is of course not changing.